Candlelighters | Recycle Ink Cartridges
Candlelighters supports families facing children's cancer in Yorkshire. They work on the wards, at their Family Support Centre or in the community to help ordinary families who are facing extraordinary circumstances. Anyone touched by children's cancer in Yorkshire, no matter how long ago, is considered a member of the Candlelighters family.
Everything you do helps our family grow so that we can reach those who most need our support.
Why we became part of the Candlelighters family
The Candlelighters family helped to support James and his family when he tragically lost his brave little soldier Guy to cancer in October 2015.
He was only 4 years old.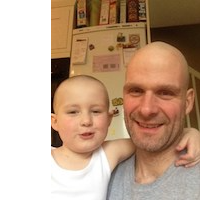 Candlelighters were amazing, helping to support the family in their most difficult time. Since then we have been helping James to give a little back and help others in this horrible situation.
Some of our fundraising efforts so far have been competing in the Great North Run before a 90 mile cycle home and raising money during the Tour de Yorkshire.